---
Totally F***ed Up
by Gregg Araki Starring: James Duval ; Gilbert Luna ; Roko Belic

USA, 1994 85 mins VHS English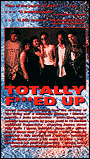 Think of it as Jean Luc Godard doing "Saved by the Bell," or Antonioni doing "Beverly Hills 90210." Gregg Araki's Totally F***ed Up is a film very grounded in the L.A. thing.

Woo-woo, it's alienation galore as six homoteens bursting with angst hang around a landscape of empty parking structures, deserted car washes, swimming pools, and mind-numbing billboards to whine, kvetch and agonize about drugs, sex, dating, suicide, violence, family, identity, and homosexuality. Oh, and they get to wear really fab eyewear and neat thrift-store fashions while doing it.

Intercut with titles, clips of movies, porn, videos, and television bites, it's cynicism galore as teen romance and hormones *ucks with being young, queer, and in L.A.